As we scroll our social feeds, we are often bombarded with a swarm of vague yet inspirational calls-to-action to ~ B e Y o U r S e L f ~ set atop stock photos of landscapes where we'd much rather be. Oversaturated as this messaging around living authentically may be, I think we can all agree that it is actually something we'd like to embody. Yet, it seems to me that, while we receive all this messaging around the promise of authenticity, nobody has bothered to clarify that the requisite first step to doing so has been taken.
That is, that we know who the hell we are.
I know, I know: it seems so obvious that it must be a given, right?
Well, for me, not so much.
During my late twenties and at the start of my thirties, I lost all sight of who I am, and at great detriment to myself, my wellbeing and my general zest for life. I got swept away in chasing external measures of what makes life meaningful without checking in to determine those measures for myself. After years of neglecting nudges that something was very wrong, I finally woke up, realising in utter despair just how misaligned my life was from who I am, what I want, what I can offer—indeed, from what actually makes life meaningful.
Can you relate?
If you can and you're in the middle of this sea of disconnect, fear not: having finally found myself ashore, so to speak, I have nothing but confidence that these choppy waters are temporary for you too. Reaching that shore—that is, getting back in touch with yourself—will, however, take action and maybe even some life-altering changes. I know for me it did.
If you're feeling anything like I was about a year-and-a-half ago, you may have no clue where to even start. So, in case it provides some light to find those first steps back to yourself, here is what helped me reconnect with myself in a meaningful and nourishing way—not to mention, to totally change my life.
Before we get started, just a quick note of disclaimer: we're all different; these are some of the things that have helped me so far. They may or may not be helpful for you, so take what feels right and leave the rest.
Watch this video for more of my story on recovering from burnout, rediscovering myself and totally changing my life…
In this video, I talk about "being your true self"—specifically in the lens of where I was with this at the beginning of last year when I experienced burnout, where I am with it now and what's helped me along the way in hopes that it might help you too.
Taking a leave of absence from work…
I totally understand if you feel a twinge of contracting dread upon reading that first step. I struggled with so much resistance when I realised I needed to take a step back from work: What will people think? I should just "push through". I am not worthy of giving myself such support, and certainly not of receiving it from others.
And so on.
After many months of running on empty, however, I finally gave in and accepted what I needed. Taking this time and space to focus on getting better allowed me to rebuild and reconnect with myself.
Starting therapy…
It probably comes as no surprise that therapy is on this list—it was (and still is) much needed! Not only has therapy been so instrumental in helping me to "look at my stuff", it's also enabled me to really get to know myself. Since I started therapy, I've been able to make necessary changes that allow my wellbeing, peace of mind and general sense of fulfilment to flourish. That said, in my experience, therapy has been hard, time-intensive work. It is not an overnight wonder cure or walk in the park. It is, however, well worth all of the tears, time and money I've put into it.
Speaking of money, therapy gets a bad rep for being unaffordable. I personally found accessing therapy through the NHS incredibly difficult, and ended up finding my therapist through a charity instead. That's just to say that, if you want to try therapy but stop yourself out of doubt that you can afford it, I urge you to see what low-cost avenues may be available to you. There really are a plethora of options out there, whether they be through charities, private therapists who offer sliding scale pricing and even employers who cover therapy costs.
What's more, you are worth it: your soundness of mind, sense of support and ability to be heard are all well worth the expense.  
Starting to journal regularly…
You'd think that, since I'm a writer, I'd already be an avid journaller, but it really isn't something I did until recently. Like therapy, journaling helps me to "look at my stuff":  my thoughts, feelings, experiences and interests. It helps me to see certain patterns—say, things I have been pining to try but haven't gotten around to yet. When I notice these patterns, I can more easily act on them to better show up as and for myself.
To me, journaling is different from free writing. I've been free writing every day for nearly eight years, but that's more of a creative escape than a honing in on myself and my life. Both are valuable, but for the sake of staying in tune with myself, journaling has been key.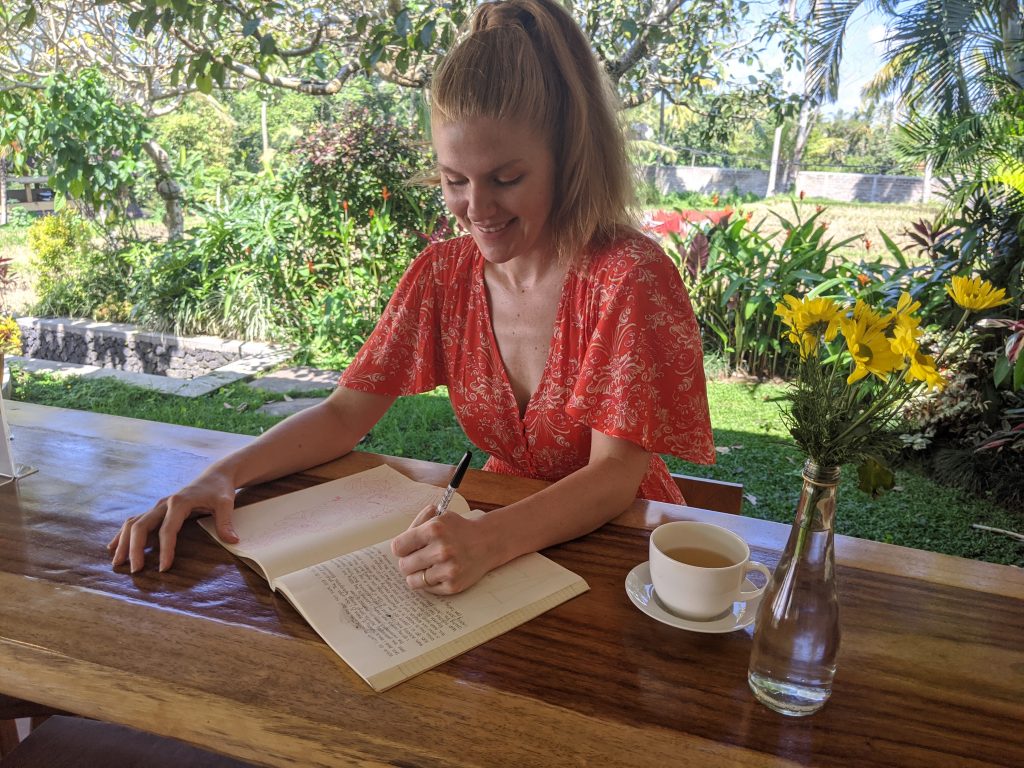 Spending quality time alone…
Spending time alone while doing something that fills me up has really supported me in rebuilding myself and reconnecting with my interests. For me, this often means exploring new places by myself, whether near home or further afield. It can also mean starting a new creative project with absolutely no expectations attached to it, other than simply experience child-like wonder and fun. Another way you can do this is by creating a space all your own, one that really serves as your own dedicated safe haven. This can be a physical space or simply a chunk of time that you devote to spending solely with yourself in an intentional way, doing whatever activities, practices or rituals that bring you pure joy.
Meditating every day…
Meditating every day keeps me in touch and in observation of my thoughts and emotions while also detaching from them. The detachment piece gives me a better sense of their temporary nature, which has been a crucial tool in building my resilience to the particularly intense thoughts and feelings that I sometimes experience. That resilience reminds me of the simple truth that, not only am I not my thoughts, but my thoughts don't need to be acted on. While they are sometimes intrusive or harmful, they will pass. 
Creating boundaries with negative stimuli…
In short, this step means observing, noticing and taking heed to what annoys you or otherwise brings you down in some way.
An early example of this for me is when I decided to stop drinking alcohol at the start of 2019; I noticed that I would get anxiety after drinking any amount of alcohol, so I figured I would stop just for a while. Then I noticed that I didn't really have any desire to drink, so I haven't.
Although I didn't drink very often, I nevertheless have noticed differences in living without alcohol—namely, my connection to myself and my ability and willingness to live intentionally and with conscious awareness have increased.
A smaller example of creating boundaries with negative stimuli is that I've recently stopped looking at my phone before I get out of bed in the morning. I noticed that when I did look at my phone first thing, I would often spend less time doing the things that mattered to me. This is helpful specifically in terms of knowing myself because, rather than falling into a YouTube black hole or the never-ending story of scrolling, I start the day with the quiet that will allow a desire to rise to the surface. This reveals how I actually want to spend my morning.
The fact that not looking at my phone first thing in the morning is beneficial is not such a shocking revelation. Unplugging from devices and screens at least somewhat regularly is so key in supporting self-discovery and mental health overall.
Getting back in touch with my creativity…
Along my recovery from burnout, I have started engaging in creativity with no strings attached. That is, no pressure, no intended outcome—just simple and pure creative fun. Carefree creativity has enriched all aspects of my self-discovery, self-development, self-care and beyond. Whether filling it or using it, I make time in some way to honour my creativity every day.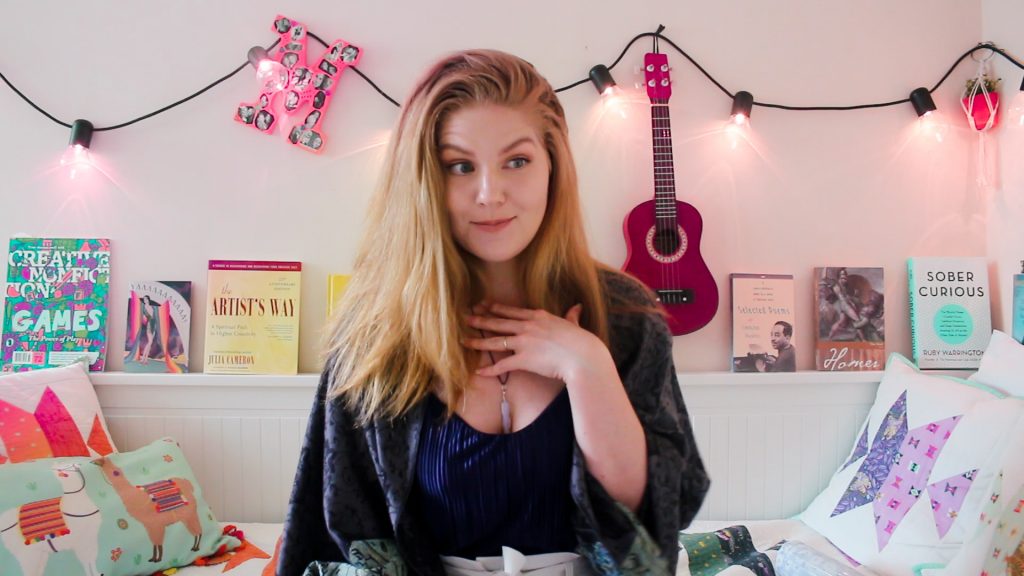 Following my curiosities…
Another way I've been reconnecting with myself is making space for my curiosities. For example, I've always been drawn to discovering more about my spirituality and the metaphysical, which I unfortunately held myself back from during periods of self-abandonment.
When I finally allowed myself to simply follow these curiosities, so many synchronicities began to arise. I found myself in faraway lands feeling totally supported and guided by something far greater than myself. This support and guidance led me to connect with new people and practices that enrich my life to this day.
One example of this is not only becoming attuned to reiki, but how that attunement fell into place. My flight out of Bali was cancelled and I found myself unable to return home. Although my homestay was coming to an end, my search for a place to stay didn't last long: one of the teachers on my yoga teacher training revealed that there was a bungalow available to rent in the commune where she lived. I ended up staying there for two months, during which time my teacher became a dear friend. She also introduced me to reiki, giving me healing sessions and, ultimately, teaching me how to use this powerful practice to heal myself and others.
In the name of following curiosities (and to cheekily plug my friend, Kate, and her wonderful offerings), if learning reiki is something you're curious about, I highly recommend learning with her. She offers courses in person and online. If you sign up with code MEL£50VOUCHER, we both win: you'll receive £50 off of any of her courses and I'll get a small commission. You can also learn more by following her on Instagram, @kate_the_space_between_healing, where she posts beautiful resources all about reiki.
Whatever your curiosities are, I believe that, if you follow them, you're sure to have fun, learn more about yourself and maybe even receive new and unforeseen opportunities that expand you beyond what you could've imagined.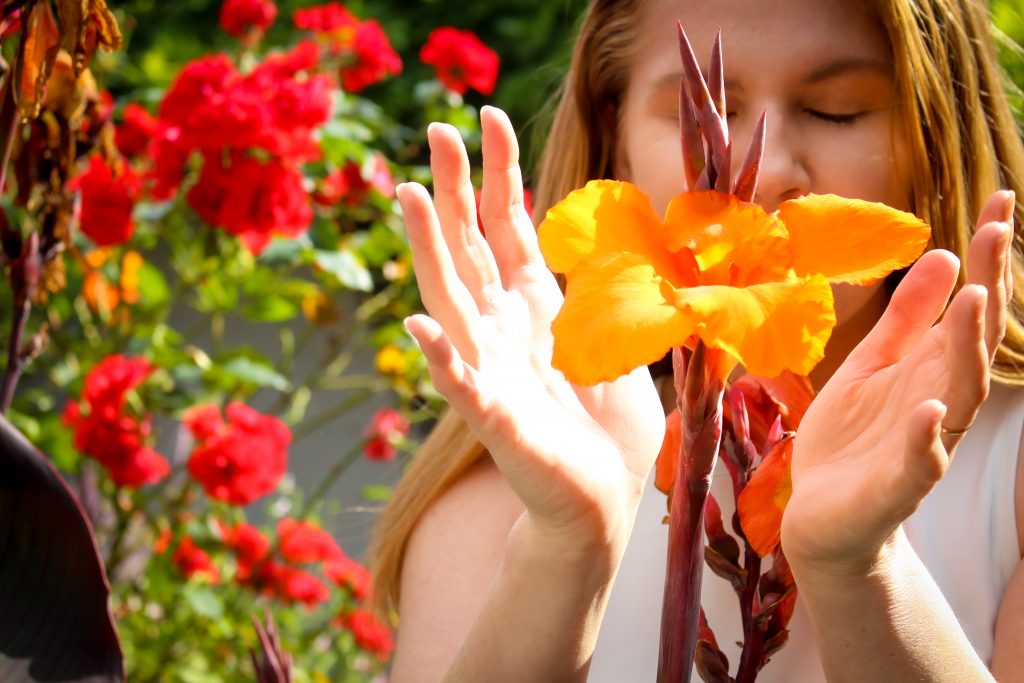 Did you know you can give plants reiki? Read more here. You can also watch a demo plus learn about how plants fuel creativity in this video.
Thanks to these steps, I've been discovering new facets and layers of myself each and every day for over a year-and-a-half—not to mention, I have totally changed and reclaimed my life.
Of course this is an ongoing process. I'm not, by any means, "finished".
But I do feel like I've come far enough to fathom how worthwhile getting to know yourself is, so please don't be like me and wait for a rock-bottom moment to do so. And, if you are in that rock-bottom, my heart is with you; I hope that sharing what's helped me serves you in some way.
Affirmations
Try these affirmations for self-discovery and leave affirmations that you use and love in the comments below. Spread the love by sharing this post with a friend who inspires you to be just as you are.
I know and I nurture myself.
I follow my curiosities.
My desires are the building blocks of who I am.
I am connected.
I am limitless.
I am worthy.
My value and worth are independent of my successes and failures.
I am enough just as I am.
Stay inspired…
Sign up for monthly check-ins to receive exclusive exercises and content.
Check out my writing, wellness and creativity services at www.melaniealbright.com.
Subscribe on YouTube.
Follow: 
Read these posts next:
Watch:
Kate with The Space Between Healing
MEL£50VOUCHER code instructions, terms and disclaimer: after selecting your course(s), enter the code in the Order Summary section as you checkout. The code is not case sensitive. Eligibility: one use per person, can be applied to purchases of courses only and expires 28 Feb 2022. I will receive a commission if you purchase any of Kate's courses using this code.
Recommended reads
The Artist's Way by Julia Cameron